Welcome
Chartered in January 1969, BSA Troop 772 is dedicated to providing our Scouts with a complete high adventure program designed to build character, foster citizenship and develop fitness. The leadership skills taught through Scouting, as well as the individual achievement abilities developed in our Scouts, equip them to be better sons, students, athletes and, ultimately, better men.
The Scouts are responsible for running the Troop. They determine what activities the Troop will participate in, where the Troop will camp, what the yearly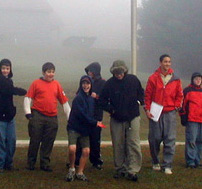 High Adventure outing will be, and how the Troop will raise funds for these events and other Troop needs. These decisions are made by Scout leaders at Patrol Leader Council monthly meetings. The Scoutmaster corps provides the expertise to assure that the events planned by the Scouts are conducted safely and in accordance with BSA policy, but Troop 772 is Scout led, a proven method for delivering a program that appeals to young men and keeps them coming back for more.
Our high adventure program is the most popular segment of the total Scouting experience provided by Troop 772. A dedicated corps of more than a dozen trained, highly experienced Scoutmasters enable our Scouts to participate in rock climbing, mountain biking, backpacking, canoeing, rifle/shotgun shooting, fishing, and other exciting activities that are popular with young men. A strong indicator of the love that our leaders have for the Scouting program and Troop 772 is that many are still active in Troop activities despite the fact that their sons aged out of the Troop years ago.
Hot or cold, rain or shine, regardless of the season, we go to the woods every month, typically the third weekend. Within our program we include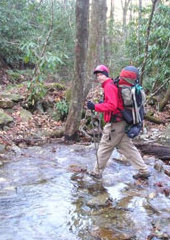 Summer Camp (usually at the Woodruff Scout Reservation), as well as a 50 mile High Adventure backpacking/paddling/cycling outing each year. In 2008 we went to the BSA Florida National High Adventure Sea Base for sailing, snorkeling, and other aquatic activities. In other years we have taken several crews on a canoeing adventure in the Quetico Provincial Park near Ontario, Canada. Past 50 miler experiences include backpacking in the Great Smokies, on the Appalachian Trail in Georgia and Virginia, the Cranberry Wilderness in West Virginia, the Big South Fork Wilderness in Tennessee and Kentucky, and canoeing on the Buffalo River in Arkansas. Multiple crews from Troop 72 over the past three decades have trekked 75 - 100 miles as they backpacked at "God's country", the Philmont Scout Ranch in New Mexico. A typical annual outdoor calendar for the Troop might include:
January - Neels Gap to Blood Mountain backpacking - Appalachian Trail - GA
February - Odum/Pinhoti/Silent Creek Trails backpacking - AL
March - Pine Mountain Trail backpacking - GA
April - Annual shootout/Shotgun and Rifle Merit Badges - GA
May - Family Cookout and Court of Honor - GA
June - Summer Camp - Woodruff Scout Reservation - GA
July - 50 Miler - Backpacking, canoeing or mountain biking; Philmont Scout Ranch
August - Canoeing on the Flint River - GA
September - Chickamauga and Chattanooga National Military Park hiking - GA
October - "Holsworth" Trail near Raven Cliffs backpacking - GA
November - Pigeon Mountain/trail and road biking - GA
December - Beech Creek Loop Trail backpacking - NC
Typical Troop meetings include time for Patrol business meetings, preparation for upcoming outings or events, activities to develop Scout skills, rank-specific advancement classes, merit badge clinics, and games. Troop meetings are held on Tuesday nights, 7:30 - 9:00 PM in the Fellowship Hall at John Knox Presbyterian Church. Two Assistant Scoutmasters are assigned as Patrol Advisors to mentor the Patrol Leader and provide guidance for the Patrol members as needed.
We regularly conduct Eagle Scout Courts of Honor with the number of Troop 772 Eagle Scouts now exceeding 60. In 2008, one of our Eagle Scouts graduated from the United States Air Force Academy, and we currently have two Troop 772 Eagle Scouts at the United States Naval Academy, one at the United States Merchant Marine Academy, and another in the West Point Preparatory School Program.
We are delighted about your interest in our Troop. If you have further questions or would like to discuss joining our Troop, please contact the Scoutmaster. (email)