What we do
One of the cornerstones of our troop is high adventure. We go camping year round,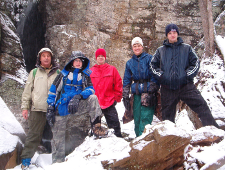 every month when possible. Many of these trips will be backpacking trips, where we carry everything we need and hike to the campsite. We love to be outside. Many of our outings are built around other activities, like canoeing or shooting, and the camp site will be near the vehicles.
Another great part of the program is the annual Summer Camp. Our troop goes to Summer camp at Woodruff Scout Reservation in the beautiful North Georgia Mountains. It's a week long and offers a great range of activities and learning opportunities for all Scouts, new and old. Swimming, first aid, white water rafting, canoeing, hiking, and horse-back riding are some of the activities that our Scouts took part in at this years summer camp.
Recognition and Advancement
A part of Boy Scouting that all Scouts enjoy is recognition for their accomplishments. Scouts work hard to lead and plan their own campouts and other activities. Their accomplishments and increasing skills and leadership are recognized in many ways: in their own satisfaction in a job well done, in the respect of their peers and Scout Masters, and in the various official awards that they will earn.
Rank
Badges of rank and Merit badges are the two most notable official awards that a Scout may earn. The badge of rank is worn on a Scout's left uniform pocket. The various ranks are earned in order through a boy's career as a Scout. The requirements are significant and progressively more challenging. These ranks represent real accomplishment and are a source of genuine pride for the Scouts that achieve them. There are seven Badges of Rank for the Boy Scouts of America:
Scout
Tenderfoot
Second Class
First Class
Star
Life
Eagle
It takes years of successful scouting and proven leadership to earn the highest rank of Eagle Scout. Troop 772 is proud to have helped many young men reach this goal over the years.
Merit Badges
Merit badges are sometimes a part of the requirements for certain ranks and also awards in their own right. There are well over one hundred different merit badges that can be earned. There is a remarkable diverstity of subjects for which one can earn a merit badge. These include Swimming, Camping, Fishing, Lifesaving, Rifle Shooting, Hiking, and Canoeing. But, not all merit badges are related to outdoor activities. Here is a small sample of some of the many other merit badges available:
Archaeology
Auto Mechanics
Coin Collecting
Reptile and Amphibian Study
Astronomy
Computers
Art
Leadership
In addtion to all this, the Scouts have many opportunites for leadership. The troop is organized into smaller groups called Patrols, each of which has a Scout Patrol Leader, Assistant Patrol Leader, Quartermaster, and Scribe. The troop also has a Scout who serves as Senior Patrol Leader and several other troop leadership positions. But, all of the Scouts are called upon at different times to lead various specific activities. These experiences prepare them for future leadership roles in the troop, but more importantly, for success throughout their lives.